WHAT makes A changemaker?
The Common Good Changemakers are the leaders of tomorrow, young individuals who have gone above and beyond to fight for causes that affect not only them or the nation, but the world.
Our Changemakers have seen wrongs that need righting and have answered the call to action – whether it is fighting for gun control reform after surviving a school shooting, or recognizing the lack of government and business reform to address climate change after evacuating wildfires, TCG Changemakers have become activists wise beyond their years who are making genuine impacts in our nation and the world.
Previous Changemaker Scholarship Recipients
"When I started my climate strike at the UN HQ…I didn't even know what being an activist was about. I just knew something was wrong in the world and I had to take action.
"In these times of tragedy and divisiveness, the one thing that brings us all together is our unity and strength…so that we can fight for those who no longer can."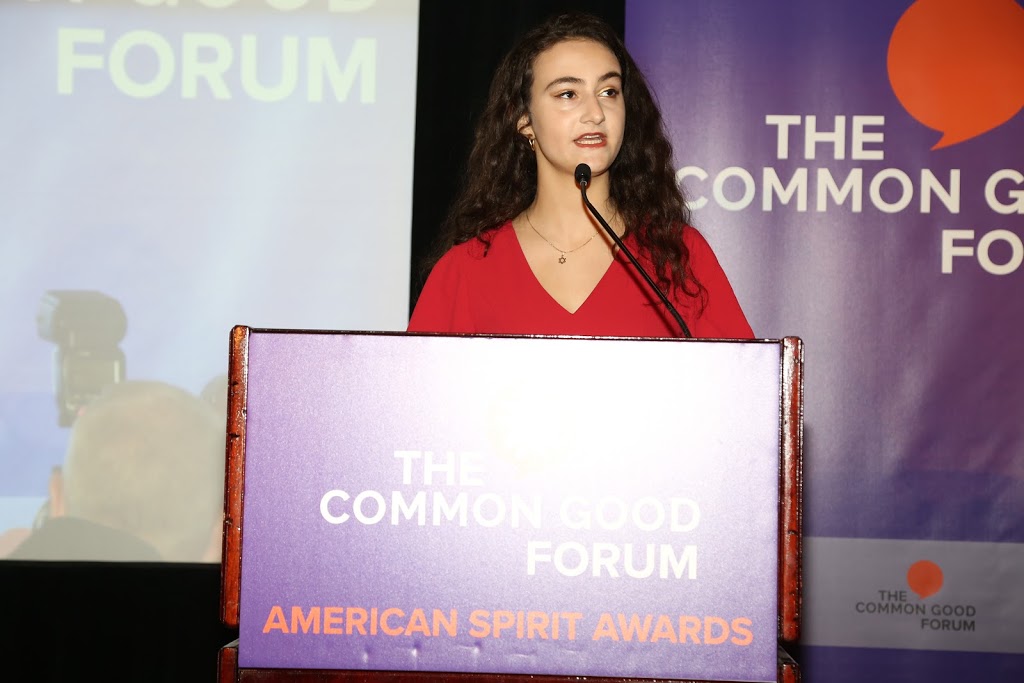 "I don't want to normalize the fact that kids…are being awarded for fighting to prevent the end of the world…We, the youth, need your help. We need your action."

What do Changemakers receive?

Once becoming a TCG Changemaker, we ensure that these incredible young individuals continue their bright trailblazing paths ahead. Some of the opportunities our Changemakers receive include:
The $2,500 Changemaker Scholarship for their education

Invitation to The Common Good Forum & American Spirit Awards the year they receive the award. Changemakers are honored, presented with their scholarship and Changemaker trophy by a notable individual, and give acceptance speeches

Invitations to future TCG events and Forums

Social media promotion of our Changemakers and the work they do
TCG Changemakers always will have a home in The Common Good, and we will always be honored to recognize the work they continue to do.


Who qualifies as a Changemaker?

Do you think you could be a TCG Changemaker, or know someone else who qualifies as one? Read the following criteria and see if you match:
Under the age of 18, not yet attending college

Have fought for a cause you care about and believe is fundamental to societal progress

Have made an impact in your local community and/or wider national community


To nominate yourself or someone you know as a Changemaker, to ask further questions about the Scholarship program, or to donate to fund a future Changemaker, email changemaker@thecommongood.net.